Flying with babies & children by private jet: Family flights
From pregnancy, to flying with newborn babies, toddlers or teenagers, PrivateFly ensures the highest possible levels of safety and comfort for family flights by private jet charter.
Over 15% of our passengers are babies or children, so here are our FAQs, at every stage of your family journey.
For private jet charter prices or advice on flying with families call our 24/7 expert team on +44 (0)20 7100 6960.
To arrange a bespoke private jet flight for you and your family, call our Flight Team (24 hours) on +44 (0)20 7100 6960 or contact us
Flying when pregnant by private jet
Up to what stage can pregnant women fly?
Pregnant women should take medical advice before planning to fly, and the health and wellbeing of the mother and the baby are our biggest priority. Most scheduled airlines do not allow travel after 36 weeks of pregnancy, and require a medical certificate after 28 weeks of pregnancy. Private jet operators generally follow the same guidelines, but there can be some flexibility to fly later if a doctor's letter supports this.
Is it more comfortable to fly by private jet when pregnant?
The benefits of flying by private jet when pregnant are numerous, and your comfort is significantly enhanced. You can avoid long periods standing in check-in or security delays. There is also plentiful and private cabin space with reclining seats on most aircraft and beds on larger aircraft for longer flights.
Can specialist catering be arranged on board for pregnant women?
We can arrange private jet catering for pregnant women according to taste and medical advice. In the earlier stages of pregnancy, some women will prefer to avoid certain foods such as seafood, unpasteurised cheeses, nuts, undercooked meats or eggs. We can help arrange food and drink to ease morning sickness symptoms, and can also cater for most unusual food cravings when pregnant!
Flying with young babies by private jet
How soon can I fly with a newborn baby?
There are no specific regulations, and you can fly with a newborn baby as soon as you are ready and need to arrange air travel, and have a valid passport in place for your baby. If the mother has given birth by Caesarian section, it may be necessary to get a doctor's letter, if you wish to fly before six weeks after the birth.
Does my baby have their own seat on a private jet?
As with schedule airlines, regulations permit that your baby can travel on your lap until the age of two years old, when they will then require his or her own seat. We usually recommend that customers travelling with babies take their car seat on board the private jet. This can be strapped in a rear-facing chair, following the same safety guidelines as when you are travelling with your child by car.
Can I take baby food and milk on board a private jet?
Baby food and baby milk can be taken on board your private jet, or this can be arranged for you as part our the specialist catering arrangements. Your baby milk and baby food can be given to the staff at the FBO (private jet terminal) on arrival, and can be taken on board the aircraft with the catering. Specialist baby food can usually be prepared as required. Private jet catering FAQs
Children's medication can also be taken on board the aircraft, subject to approved liquid limits. We recommend that passengers inform us of any medical needs in advance, to ensure the most seamless and comfortable flight.
Does my baby need a passport to fly by private jet?
All babies need a valid passport to travel by private jet. As with all private jet passengers, we ask for passport details in advance. By pre-screening our passengers before the flight, we can allow a swift and seamless security process when you arrive at the private jet terminal or FBO, so you can depart as quickly as possible. Streamlining the security process
Flying by private jet with toddlers and young children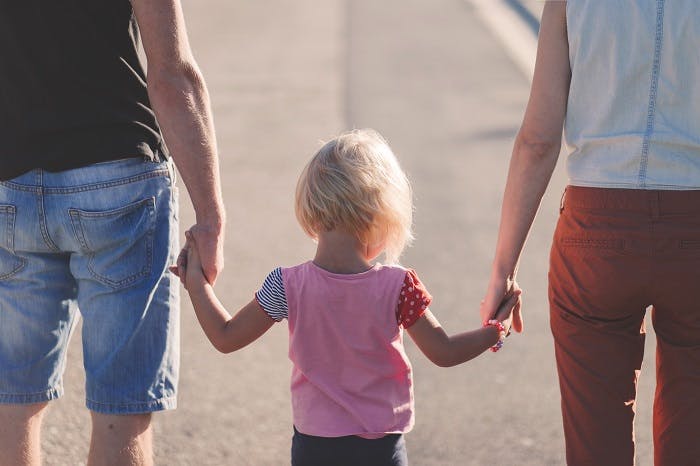 At what ages does my child need their own seat on a private jet?
The regulation for private jets is the same as airlines - a baby can travel on your lap up until the age of two years old. From aged two onwards it is required by law that he or she has their own seat. you may prefer to take a child seat or booster seat with you for comfort, or we can arrange to have this in place on your aircraft.
Many private jets have reclining seats and larger jets have full size beds on board, to ensure that you and your child can relax and sleep in maximum comfort on board your private jet.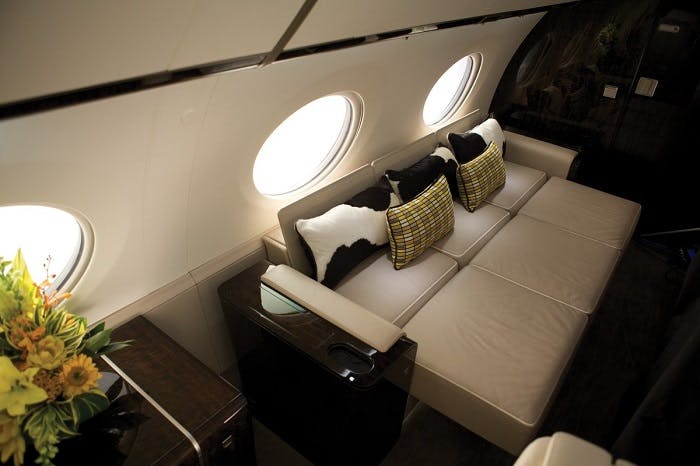 Can I adjust the cabin air temperature to suit my child?
With a private jet, the air conditioning temperature on board is set to your preferences and requirements. Travelling in your own private aircraft also means that you can avoid being in close proximity to unknown airborne viruses, which can also be re-circulated through the air conditioning systems in scheduled airlines.
Can I arrange on board entertainment for my child on a private jet?
Most private jets have on-board entertainment systems, with latest models offering the most advanced viewing and communication solutions for VIP customers, and their children. We can arrange for a wide selection of entertainment and music according to you and your child's specific preferences. We can also arrange for books and toys to be waiting on board that will ensure a relaxing journey with your child.
Unlike most scheduled airlines, the in-flight entertainment system can be switched on from the moment your child steps aboard the aircraft, to ensure they are happy and comfortable from the very start of their journey.
Most children also love the excitement of meeting their pilot up close, and visiting the flight deck - not something they can do on an airline flight.
Is my private jet safe for me and my family
We are very experienced at arranging flights for families and are committed to the highest possible levels of private jet safety. PrivateFly has a rigorous and ongoing safety policy in place, working only with an accredited network of aircraft that meet both aviation authority standards, and also our own due dilligence process.
Our highly-experienced Flight Team, led by CEO and former RAF pilot Adam Twidell, is happy to answer any questions about private jet safety or security, and we can send our customers detailed reports and background about any of the aircraft in our network. PrivateFly safety policy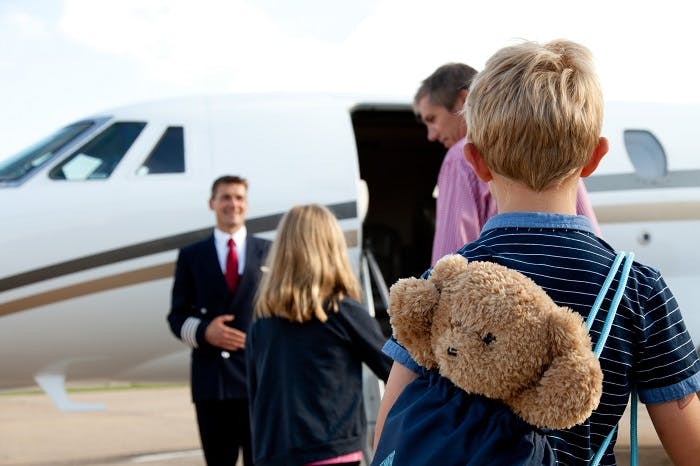 Can you provide special private jet catering for my child?
Private jet catering is bespoke to customer requirements, and we'll arrange for any special preferences or tastes that your child will enjoy the most. We can also provide specialist catering if your child has any food allergies or intolerances, or if you and your family have specific religious requirements.
Can I take my pram or buggy on board a private jet
There are far fewer luggage restrictions when travelling by private jet. You can take your child in a pram or pushchair straight onto the private jet, and the buggy can be accessed in the luggage compartment or stored away in the cabin, for easy access. The pram or pushchair can then be ready and waiting as you leave your aircraft.
Can ground transport be arrange for me and my family on arrival or departure?
PrivateFly can arrange for ground transport to and from the private jet airport, ensuring baby or child car seats are in place, if required. At some airports, we can arrange for cars to be waiting close to the aircraft steps, or they will be waiting just outside the private jet terminal, to ensure the swiftest and most seamless possible departure.
Travelling with teenagers by private jet
We can cater for all whims, appetites and musical tastes on board your private aircraft, to ensure there is no teen air rage. When you charter your own private jet, there is personal onboard entertainment to suit all preferences and ages in the family.
We can also arrange for specialist magazines and newspapers to be waiting on board that are suitable for all ages and preferences in your family group.
Older children and teenagers also often enjoy the chance to meet the pilots up close and visit the cockpit of the aircraft.
How to charter a private jet for family flights
To arrange a bespoke private jet flight for you and your family, call our expert Flight Team (24 hours) on +44 (0)20 7100 6960 or contact us